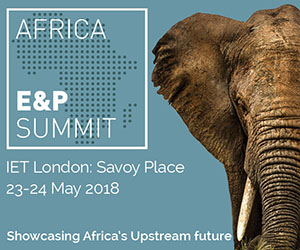 Full two day speaker program announced
LONDON, UNITED KINGDOM, March 22, 2018 /EINPresswire.com/ — The Africa E&P Summit is being organsied and hosted by Frontier Communicaitons, and is the main E&P focused event in London. Held on the 23rd and 24th May, this unique event will bring together Africa's upstream industry at a world-class venue in London, shaped for companies active in Africa's oil & gas game and provides unrivaled insights into the Continent's fast changing exploration horizon.
You will hear from key players and the decision-makers, from corporate players active in Africa through to fast-moving independents, finance, legal and service & supply companies and African governments and NOC's seeking investors.
Confirmed speakers:
Keith Hill, President, CEO, Director, Africa Oil Corp., Kenya
Tracey Henderson, Senior VP Exploration, Kosmos Energy, Dallas
Eric Hathon, Exploration Director, Cairn Energy
Austin Avuru, CEO, Seplat Petroleum, Nigeria
Oliver Quinn, Director Exploration, Africa, Ophir Energy, London
Jim Demarest, VP Global Exploration, Noble Energy, Houston
Jasper Peijs, VP Exploration, Africa, BP, London
Famourou Kourouma, Deputy General Manager, ONAP Guinea
Peter Dolan, Director, Dolan & Associates Limited, London
Cath Norman, Managing Director, FAR Limited, Melbourne
Craig Goulder, VP Exploration, Woodside Energy, Perth
Phil Birch, Exploration Director, Impact Oil & Gas, Surrey
Peter Elliott, Director, NVentures, London
Hélène Dantoine, VP Africa, Exploration Subsidiaries, Total, Paris
Larry Bottomley, CEO, Chariot Oil & Gas, London
Roger Carvalho, Managing Director, SPTEC Advisory, Paris
Diakaria Koulibaly, CEO, Office National du Petrole (ONAP), Guinea
Mike Lakin, Managing Director, ENVOI Limited
Marc Guillon, Director, MGGS, Utrecht
David Fassom, Director, Stellar Energy Advisors, London
Steve Husbands, Principal Commercial Advisor, SLR Consulting, London
Mark Llamas, Managing Director Acquisitions and Divestitures, GMP FirstEnergy LLP
Galen Treadgold, Executive Director, AMNI International, Houston
Marianne Walcot, COO, Progressive Technology Solutions, London
Steve Jenkins, Chairman, Savannah Petroleum, London
Diakaria Koulibaly, CEO, Office National du Petrole (ONAP), Guinea
David Sturt, Managing Director, AziNam, Windhoek
Oisin Fanning, CEO, San Leon Energy, London
Ahmet Dik, Chief Executive Officer, Victoria Oil & Gas, London
Ignacio de Calonje, Chief Investment Officer, IFC, London
Pierre Raillard, Director, Africa, OneLNG, London
Mark Groves Gidney, General Manager, Bissau Exploration Co, London
Alessandro Colla, Regional Geomarket Director, Sub-Sahara Africa, CGG
Thore Kristiansen, COO, E&P, Executive Director, Galp Energia, Lisbon
Peter Elliott, Director, NVentures, London
Keith Myers, President, Research, Westwood Global Energy Group
Event Highlights:
Hear from Africa's Leading E&P Companies
Two full days of High-level C-Suite networking
Excellent Sponsorship & Exhibition opportunities
World Upstream Reception hosted by The Africa Petroleum Club
African Government and NOC Showcase
Opportunities, Outlook, Risks & Challenges
Government Licensing Round Promotion
For registration, sponsorship and exhibition contact Gayle Meikle
Tel:+44 20 7193 8224
Email:info@africaepsummit.com
Places limited and Right of Admission Reserved
********************************
Note to press:
For further information contact:
Frontier Communications Limited

Lynton House

7 – 12 Tavistock Square

London
WC1H 9BQ

United Kingdom
Frontier Communications
Under our World Upstream Clubs & Networks banner we deliver worldwide global events and networking for the global upstream industry.
Our Clubs & Networks include the Africa Petroleum Club, Global Women Petroleum & Energy Club and the PetroAustralasia, PetroMaghreb, PetroArabian,PetroNorth America and PetroEuropa Clubs as well as the International Licencing Association and the Sub-Saharan Africa Petroleum Exploration Society(SAPEX).
Email: info@frontier-communications.com
Jodee Lourensz
Frontier Communications
+31612559410
email us here


Source: EIN Presswire